There was this one time where I really loved this girl, and she loved me back, but things got jacked up because life is broken and people are broken and mistakes are made. In this relationship, most days were really, really great. But there was one day when something happened and my heart was shattered into a million pieces. I can't get into the details, but I feel like most of us – at some point – have been devastated before. I mean, really, really devastated. Like when all of the air gets sucked out of your lungs, and you can't breathe but you still feel like you're going to be sick. Like your entire world starts to actually simultaneously spin and collapse all at once. And you know you've never felt so much pain in your entire life.
I feel like most of us, at some point, have been devastated before.
That was how I felt in that moment. I just looked up the date in my journal, and I had written the following at the time:
The lesson can't be from all of this: there is no such thing as the fairy tale. There is no such thing as things working out beautifully for you in all areas of life. I don't want to get cynical. I want to keep my childlike faith. I really really want to. I think I will be able to, but this can't be the lesson. It just can't. It can't be a reality check. I don't want to believe in reality checks. I want to believe in a huge God capable of huge, miraculous things in the lives of His children. I need to believe in 2 Chronicles 16:9, that His eyes are on the lookout for those who are faithful, for whom He can show Himself strong. I need to believe this. I just do.
While I was pretty wrecked for the next eighteen months or so, God did do something the very next day for me. I didn't realize the magnitude of it until much later, but He did show up in my life in a powerful way. And it's important to reflect on because I believe He wants us to stay childlike in our faith, even when everything is falling apart. It's so very hard sometimes, but He realizes that and shares in our suffering – and if we listen closely and pay attention to things around us, we will see Him move.
It's so very hard sometimes, but He realizes that and shares in our suffering – and if we listen closely and pay attention to things around us, we will see Him move.
What happened was that the very next day, my friend invited me to go try to find mama loggerhead, leatherback, and green turtles. Living in Palm Beach County, we're situated on a stretch of the Atlantic Ocean where 200-300 of these glorious beasts emerge from the water every night (and sometimes during daylight hours) to lay their eggs during the nesting season of April through September. However, you don't see them all the time. It's comparatively rare. And I'd been out before and had never had any success stumbling across one.
I had been sad and in bed all day, and was in no mood to leave my house, but for whatever reason I felt led to say yes when asked. And so we met up at around 10pm, and just started walking South along the shoreline on Palm Beach Island. The moon was almost full, and it was a beautiful still night with only a gentle lapping of the sea on the sand. There was a warm breeze which helped keep the mosquitoes away…and while I was out there, I realized I was super thankful not to be at home mired in my misery.
Over the course of the next four hours, we walked up and down the shoreline of Palm Beach Island.  And God gave me nine mama loggerhead turtles, up-close and personal.  If you think about it, that is mind-blowing, as most people go their whole lives and never see even a single one. We got close enough to eight of them to touch them if we wanted to (we didn't). We remained quiet and tiptoed softly around them so they wouldn't get spooked or alarmed.  We knew they needed to peacefully make it up the beach and deposit their eggs, cover the nest with sand, and then head back to the water. We even sat motionless by one for at least thirty minutes and watched its laborious efforts to dig a nest.  It just felt miraculous to be so close to such majestic and prehistoric-looking sea creatures, and it was almost too much to take in and process. I just shook my head and smiled in amazement, as it had lifted me out of my sadness for a night.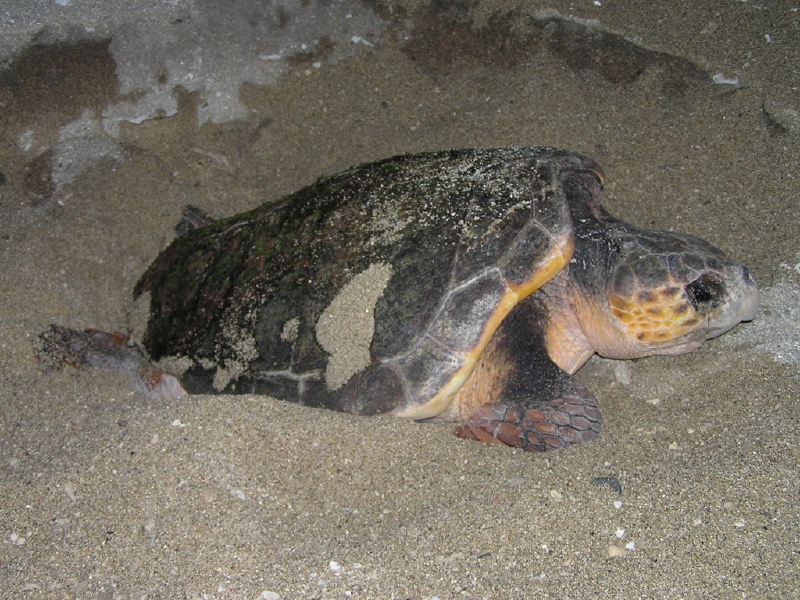 When I got home, I took the time to write out my thoughts following the experience. For one, I felt really special, like God was personally giving me a gift with every turtle. I had seen turtle eggs in their nest a few years ago, and little turtle babies one morning after surfing and talking to a volunteer who was tending a nest, but I had never seen a mama before. They were so enthralling to watch. It was like God pulled back a veil to give me a glimpse of something extraordinary and otherworldly. There was no one else around when we were out there on the shoreline, and it felt like we were on another planet.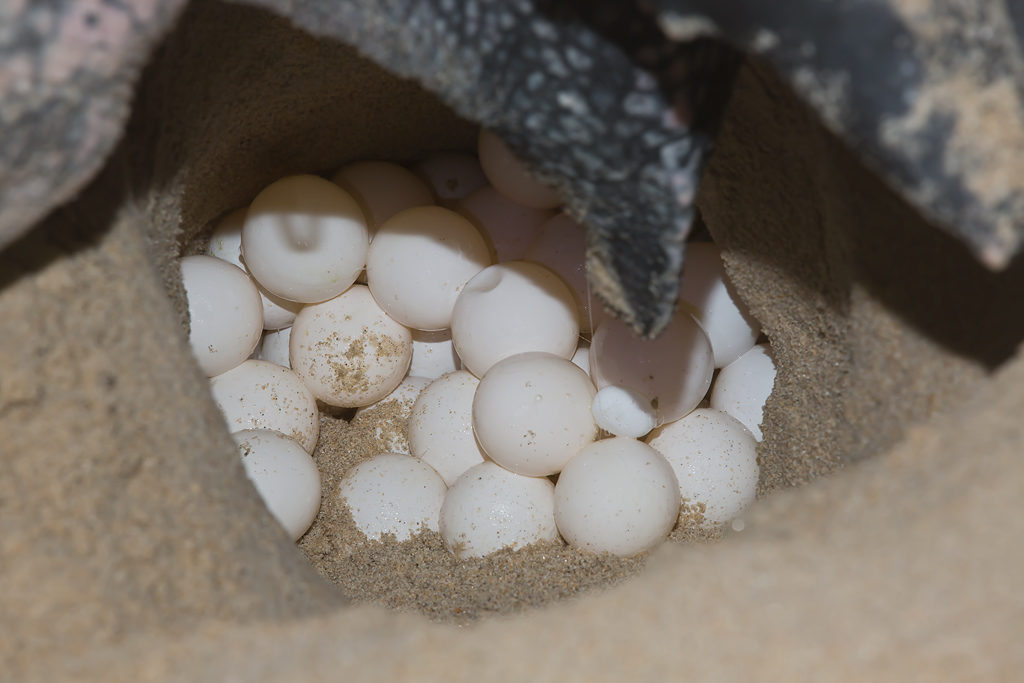 And now that I am thinking about it, I've gone out numerous times since then with friends and haven't seen another. It's almost like God provided the highest of highs for me while I was at the lowest of lows. He meets us right where we need Him to, because He knows our story and feels our pain and knows what we're going through. His timing is perfect, and His ways are perfect. I haven't needed Him to come through like that since, but I definitely needed it on that day of tremendous heartbreak and heartache.  I know I will suffer loss and devastation in the future, and what makes it easier for me to face is knowing that He will once again somehow show up and be there for me.  I can count on it.  I am confident He will respond in a perfectly-crafted way – specific to my situation, my needs, and the tenderness of my heart.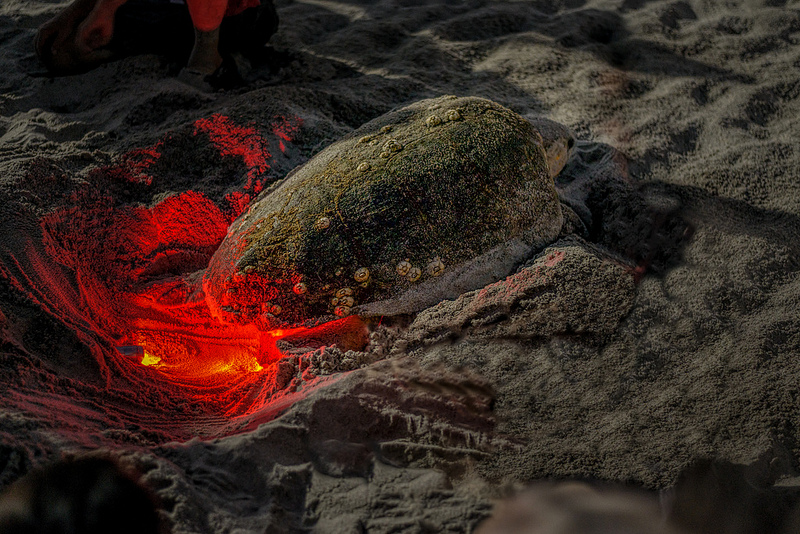 Another interesting thing was that I kept looking backwards (while we were walking forwards) to see if there were any turtles we missed, or that were coming out of the water behind us. However, my friend only looked forward and believed that if we were going to see a turtle, it was going to be in front of us, and that we weren't going to miss it. I thought that was profound. And maybe a message from God to me as well, perhaps related to my broken heart and perhaps related to everything in life. Because upon reflection, eight of the nine turtles were right in front of us (what are the odds of that?!), and while I did see a turtle behind us on our walk back to the car, it never fully left the water.
So I took that as a reminder that I want to try to live life not looking backwards. Even though it's hard, since I have a natural tendency to evaluate and dwell on the past.  Especially when the bottom falls out, and when I think I've lost my chance and life is never going to get better.  I think the entire experience showed me that God does have special gifts for me, that he is a huge God capable of huge, miraculous things in the lives of His children. And that He is going to keep showing me in unique and soul-stirring ways that I am loved so much by Him, and that I am not going to miss them. I'm just not. I just need to keep moving forward and not look back, and not think that I have missed something.
I think the entire experience showed me that God does have special gifts for me, that he is a huge God capable of huge, miraculous things in the lives of His children.
I felt the real weight of this realization at that moment. And really, I still feel it right now. I've thought a lot about what He has for me, and for my loved ones, and I remain convinced that we cannot miss out on His best as long as we are staying close to Him, getting counsel from loved ones, and operating in faith instead of fear. We cannot miss out on His best. Even if we think we have, and even if we actually somehow have, He is beyond loving, and He will bring it back around to us again so we didn't actually miss it. He'll put it back in front of us, He'll re-introduce it into our lives.
Typically, though, whatever it was wasn't really His best for us.  And if we can just wait a while, He will bring along something more perfect. There is so much freedom in this realization. So much space to live and breathe and make choices and just TRUST. I'm pretty positive He doesn't want us on tilt all the time, stressed out as to the future. He just wants us to keep moving forward and not look back, staying expectant for Him to do something incredible. To the faithful, He will show Himself strong.
Ever since that night, sea turtles have held a special place in my heart. I think you can understand why.  They were God's instrument of love to me, reminding me in such a special, personal way that the best is yet to come. The best was yet to come, but I was in a very bad place that day, and couldn't see it, couldn't conceive of it. And so He chose to do something tangible, something magical in my life, to encourage me to let go of the past and believe for the future. My hope was at death's door, but He intervened through nature, through sea creatures nesting. And it kept hope alive.
Image sources:
http://www.seaturtlespacecoast.org/mlb-content/uploads/Ed-Rosack-01.jpg
http://fohn.net/green-turtles-facts-pictures/images/Laying-Eggs-800×600.jpg
https://tourismtalktt.files.wordpress.com/2014/05/leatherback-4.jpg
http://d2tipiv4cs5bo1.cloudfront.net/d4/5f/0f5f81734131ac30e54e9b3290b8/feeling-the-heat-with-jeff-corwin-sea-turtles-video-image.jpg