I've been thinking recently about the ways that God endeavors to show us that He loves us, that we are the apple of His eye. Many times, we are just moving so fast as we manage our responsibilities and commitments that we miss or dismiss His gestures of affection, and then wonder why He doesn't seem actively involved in our life. I've been there. When I slow down (or am forced to slow down), I feel I am much more attuned to Him, and see much more clearly evidence of His grace, kindness, and even delight in me. Sometimes it is hard to believe, but He does delight in me. And you. Just because we struggle to believe something doesn't make it not true.
Sometimes it is hard to believe, but He does delight in me. And you. Just because we struggle to believe something doesn't make it not true.
Going on vacation overseas with Rachel also helps me to slow down and find Him in the newly created space. I'm not in my normal routine, and eyes and ears are more open to receive whatever He wants to show me, instead of simply moving to the next task, and the next task, until I'm done with the duties of the day. Recently, we were in Connemara National Park on the west Coast of Ireland, and on a whim decided to try to hike up to the top of the highest point we could see. After parking at the visitor center and following some signs, we found out that we could summit "Diamond Hill," which had an altitude of almost 1,500 feet and a route length of a bit over four miles. Those stats might make it seem like a walk in the park, but it definitely was not because of a few variables.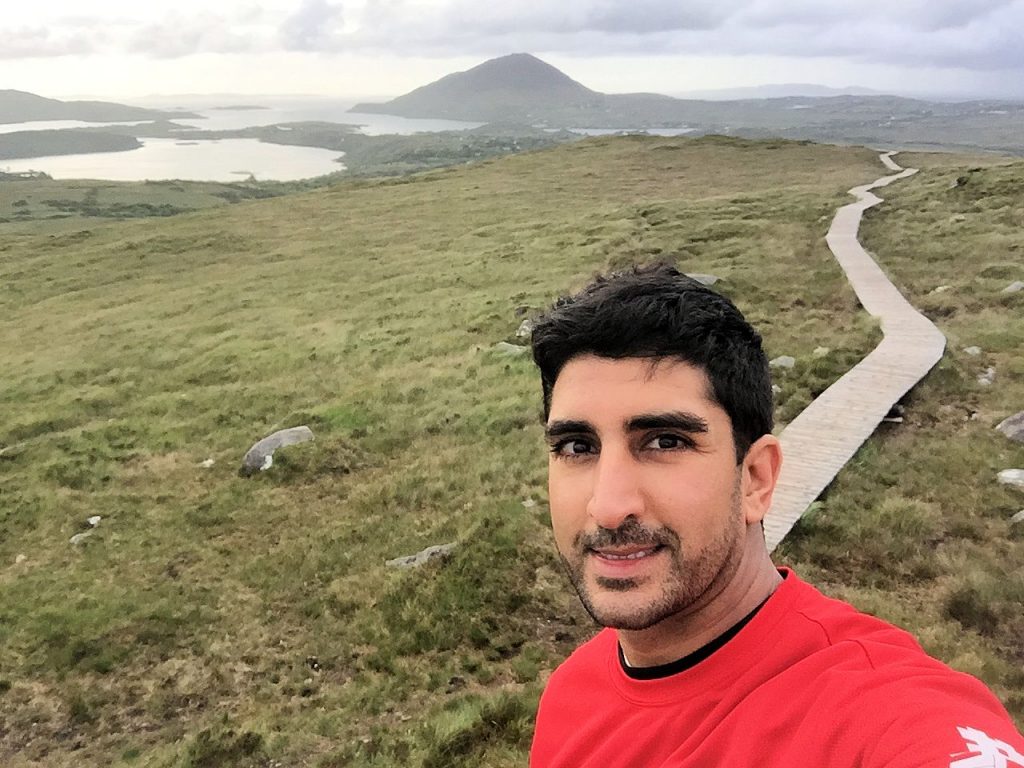 First, Rachel was six months pregnant. It's like she was carrying a watermelon in front of her. She's okay with me saying that, because it's true. I personally cannot imagine carrying even a cantaloupe in front of me while I climbed up a mountainous hill, especially as we had to use our hands a few times to steady ourselves and pull ourselves up. Second, it was really windy. I mean, the wind was whipping hard on us and around us and there was simply no protection from it on the way up. Third, the Visitor's Center was closed, there was no one else on the trail, and we were in a foreign country where no one knew we were doing this. Nevertheless, we soldiered onward and wanted to give it a shot, knowing all along that we could turn back at any point if necessary.
The first half of the climb was a slight but steady incline. While Rachel needed to take breaks periodically to catch her breath and drink some water, we had no fear or nervousness. And as we got higher, we stopped often to take in the stunning views offered by the surrounding mountains and valleys and lakes under a cloudy sky backlit by the dusky sun. With no one else around, it felt like Diamond Hill, and Connemara, and even all of Ireland was ours and only ours to enjoy. This was also our first real hike of the vacation, and we love to hike – and so it finally felt like we had "arrived" and we were doing what we loved the most in what seemed like the prettiest countryside in the world.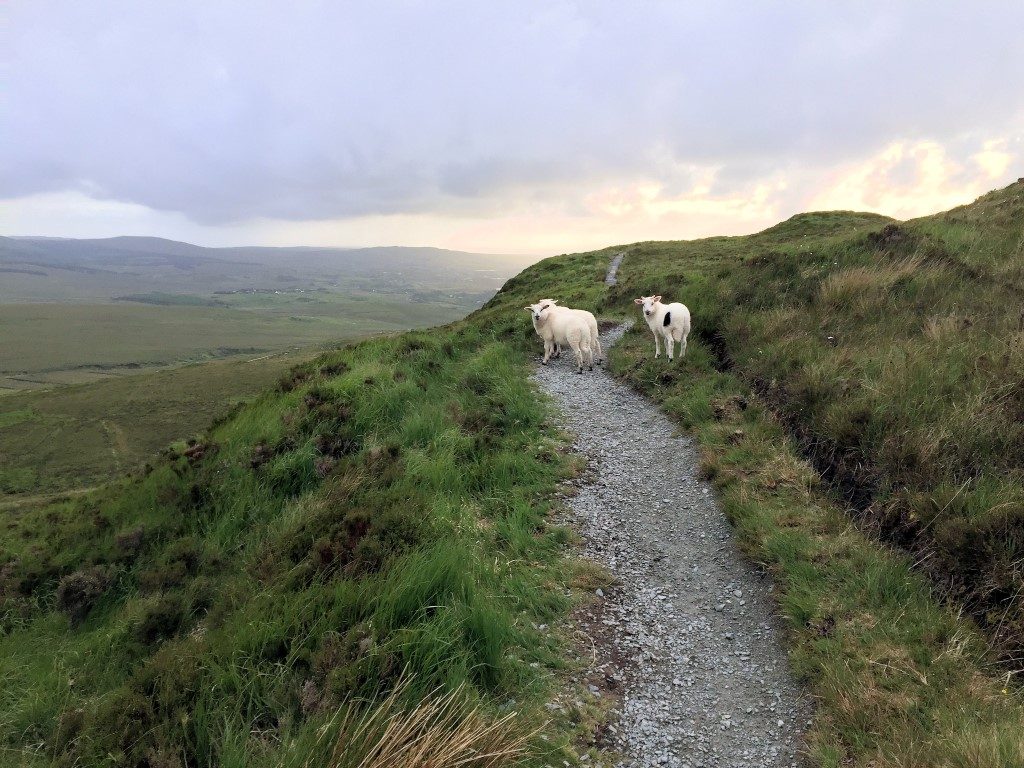 The second half of the climb was more difficult because we had to travel up a long and often steep pathway of rocky steps towards the summit. It was insanely windy, and I could tell Rachel was starting to struggle, but I also could tell that really wanted to do this. I kept offering to turn back, because I truly didn't care whether we reached the top or not – all that mattered was that we were spending quality time together and getting some fresh air on the Emerald Isle. However, I think we both realized that this might be a watershed moment in our relationship and in our lives.
Though I had a tendency to hike about ten feet in front of her, she mentioned that it would be a good idea to stay next to her and practice coaching her up the mountain in preparation for coaching her through labor. I thought that was a great idea. She said that as long as she could feel my presence and encouragement, she would know that she could do this, and all would be well. I agreed completely, and those words energized me to make sure I came through for her in the most loving, patient, and supportive way I could.
And so that's what we did, slowly, steadily, and with courage, all the way up until we reached the gigantic cairn marking the apex of Diamond Hill after two and a half hours. When we first saw it, I spontaneously cheered out loud in excitement because we had made it, and had accomplished the feat together through teamwork. I knew it viscerally conveyed to Rachel that we could do anything together, starting with the birth of our first child in a few short months. And if any doubts or fears subtly crept in – as they tend to do – we both would now be able to point to, and derive confidence from, this moment and epic accomplishment. I was thrilled, Rachel was thrilled, and I honestly felt like God was thrilled – I knew He had our back on this particular adventure, and did His part in helping us succeed.
It would have been enough of a demonstration of His love and provision to get us up and down Diamond Hill safely. However, He is able to do immeasurably more than all we ask or imagine, and as such had a few more surprises for us. Even though we were buzzing from the adrenaline high of summiting, and the knowledge that the hardest part of the climb was behind us, God chose to go above and beyond in amazing us with nature and creation by letting us see 1) lots of sheep up close along the trail, including a few really cute baby lambs 2) wild, old mountain goats with huge horns and shaggy beards 3) deer 4) cows 5) and a horse and pony that we could pet.
If that weren't enough, the sun came out when we were almost back to the trailhead, lifting our spirits even higher. Then, both Rachel and I turned around to say farewell to the challenge we just conquered, and our jaws dropped to see a full double rainbow over our mountain. Rachel almost broke down in tears, and the emotion of it all filled us with so much gratefulness and awe towards the only One who could make it all happen.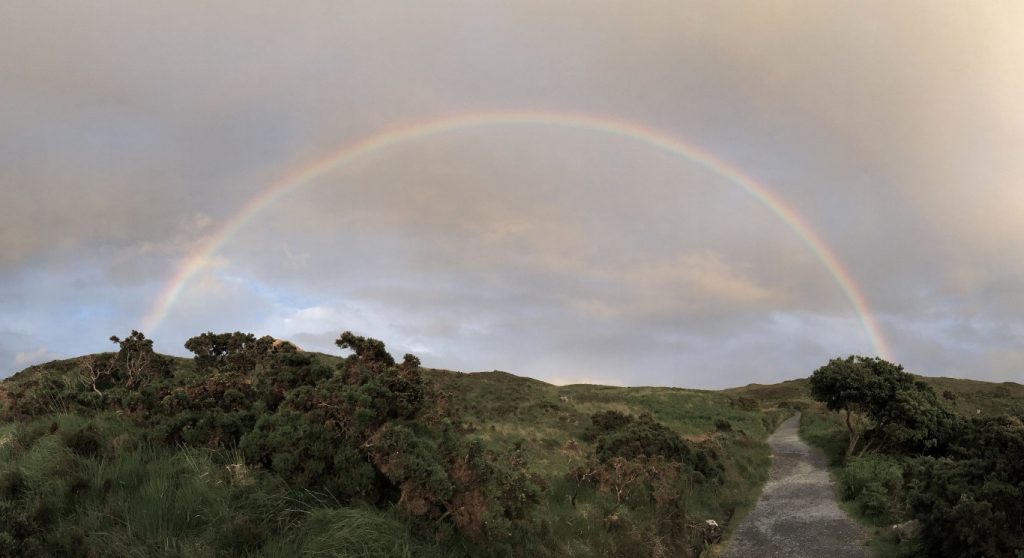 On the way back to the car, we marveled in astonishment at experiencing so much natural beauty all in a flush, all in an overflowing abundance. It felt incredibly personal, like a whisper between best friends, or a secret between lovers. Rachel and I were fully in the moment, and fully dependent on Him and Him alone during the climb. In that, He chose to communicate how much He truly loves us. And in that, we were able to receive His love overwhelmingly, and it has given us the reassurance we need that He is with us, goes before us, and has our absolute best in mind.